Alaska has a bus for pups! When will India have one?
January 26, 2023 at 11:55 a.m.
3 minute read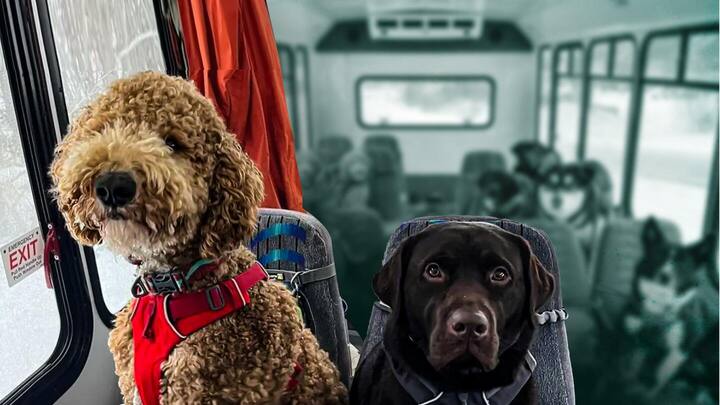 Instagram and TikTok user Mo Mountain Mutts' videos are going viral, and for the most adorable reason.

If you haven't been to Alaska before, you may not know about the Alaskan town of Skagway.

But the user's viral videos have put the small town on the world map, thanks to a busload of dogs.

We wonder when India will get its own puppy bus…
Mo Mountain Mutts organizes regular bus trips for dogs
The Instagram profile is run by a couple, Mo and her husband, Lee.

The couple organize regular off-leash walks and take their furry passengers on their bus.

In the videos, the dogs can be seen wearing seat belts and receiving treats at the end of the trip.

The couple greet each furry passenger as they board the bus.
Mo greets his furry friend as he gets on the bus.
A bus trip full of love and affection.
Words are not enough to convey the emotions these adorable videos evoke.

On each trip, around 12 dogs board the bus and are chosen based on their age and how well behaved each dog is.

The younger dogs are seated in "puppy licking corners", where the puppies can be seen licking each other.
Little puppies sitting obediently in their seats
These little pups are getting millions of views.
Mo Mountain Mutts' official TikTok account boasts 1.5 million followers, while his Instagram account has around 0.4 million followers.

His most viewed video has over 55 million views on TikTok.

The viral video shows the dogs boarding the bus, greeting Mo and obediently walking to their designated seat before the bus journey begins.
How did it all start for the couple?
Mo started walking his friends' dogs at work and soon became popular with local dog owners for his compassion towards the puppies. Many eventually gave her the responsibility of walking his dogs.

Gradually, the numbers began to grow, and Mo leaned on her husband to help turn it into a full-time profession.

Now they have become popular business owners in Skagway, Alaska.
Dog lovers can't get enough of the adorable clips.
Dog lovers can't get enough of the furry passengers and their adorable adventures.

One user commented, "I'm 58 and I want an internship with Mo Mountain Mutts!"

Another comment read, "Mo, I love your videos! So glad I found you all!"

A third user said: "These babies! Their faces are so sweet. You are my new favorite account. They are absolutely gorgeous."