Day 1: January 9, 2023
"And the rain descended, and the torrents came, and the winds blew…".
My husband Chris Dabney and I took refuge in Ojai, California, a small mountain valley 14 miles off the Ventura coast and 23 miles from Channel Islands Harbor, Chris's home port. I've only seen storms like this during hurricane season in the South, our off-season home. "Flood" is the word for it. We raise the blinds and change the TV for rain.
It made me think that rain storms in the South are not as feared as they are in the West. The subtropical east coast is "Lowcountry", flat sea level and easy to fill with the tides. In California, the steeply sloping mountains meet the sea, and in many places the two are separated by a narrow stretch of road called Pacific Coast Highway that joins Highway 101.
The Ventura to Santa Barbara section currently becomes a bottleneck in a work lane, with exits leading to surf breaks, gated communities, scenic vistas, and nothing else. There are basically few back roads to get around because the Santa Ynez Mountains are in the way.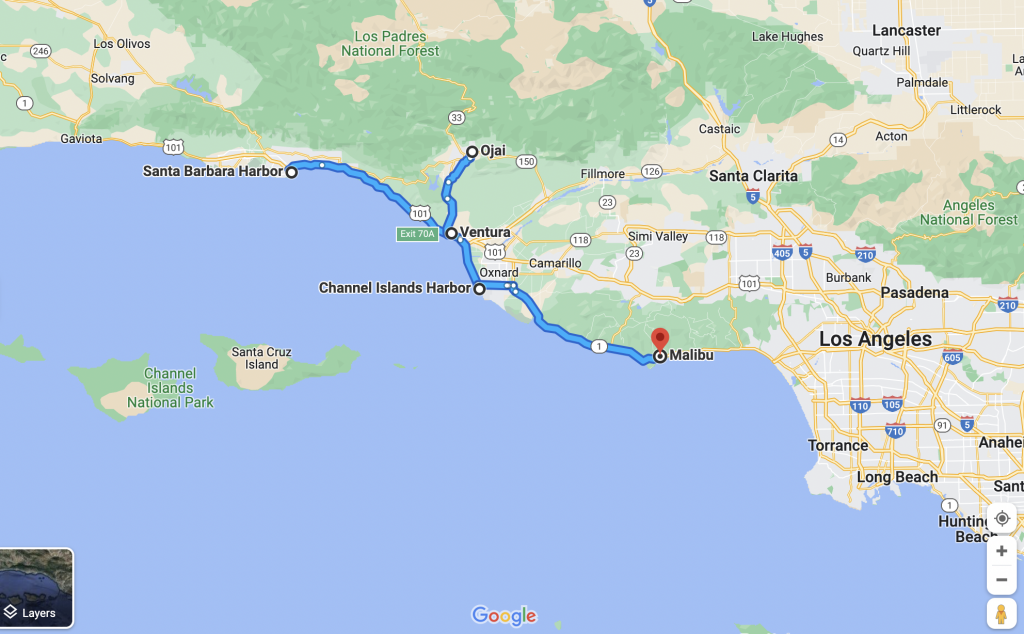 Google Map locations of the fishing families interviewed for this story.
It can be hard to comprehend that Southern California, an agricultural tower for the United States, is actually dry as a bone. We're talking about desert vibes. Where velvety green moss grows in the Pacific Northwest, sagebrush, succulents, and more drought-resistant plants blanket our hillsides. In other words, the ground is not used to rain, it can't hold up when it pours, and when it hits the mountains, the dirt goes with it.
Mudslides in the Golden State mean boulders, Jurassic Park-looking rocks that topple towering eucalyptus trees and pave roads like snowplows. Debris slides across the hard earth with such violence that nearby residents can hear the fall and feel the tremor under their feet. The difference between the rain in the South and our stretch of California is like a full bathtub of water and a speeding fire hose.
We have just learned that road closures and forced evacuations are in effect for surrounding areas, which is contradictory. So, we sit, stuck on the mountain, checking that the oak trees around our house aren't being uprooted like our neighbor's across the street. We watch the destruction unfold through local Instagram accounts, feeling a million miles away, and like everyone else, we wait.
Day 2: January 10
Chris and I drive to a bridge over the Ventura River. A place that, until now, was a dry and passable trail, but now roars underfoot like the Mississippi. Police block the opposite end of the bridge, keeping people away from a highway landslide.
Chris points out waterfalls on the highest peaks, which are reminiscent of Hawaii if you squint hard enough. It's a mixed bag; the reassuring sight of water in the desert and a heavy heart for those on the coast. We watch for a few minutes, then head home before the next storm hits.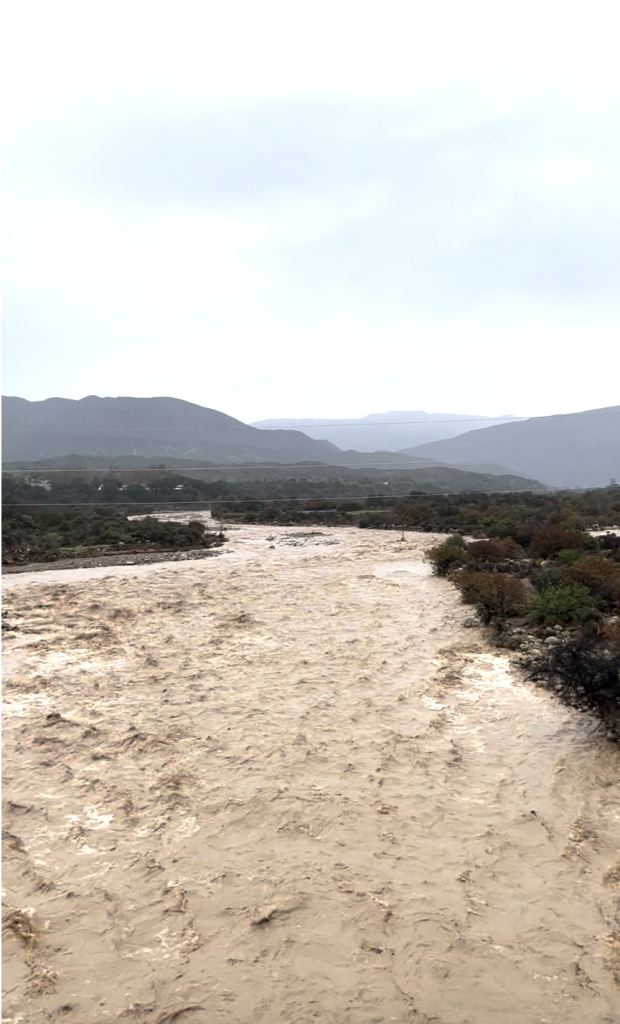 He The Ventura River is formally a dry riverbed. Photo by Megan Waldrep.
On the way home, I read the messages from two other commercial fishermen partners who live in Ventura, and the severity of the storm finally became apparent. While the roadblocks in Ojai are expected to lift tomorrow, shelby stahlmother of three, wife of shrimp, crab and black cod fisherman Tyler Stahl, and businesswoman Lindsey Mickelson Hoadleymother of two and wife of hedgehog and lobsterman John Hoadley report other challenges.
"Right now, we're dealing with (the 101 Freeway) being closed, so we can't get to the boat," Hoadely said. "The bottom of the Santa Barbara Harbor is filling up, so ships can't come and go freely. The port is littered with rubble and the shoreline is demolished. Everyone is dealing with the natural catastrophe! a little extra family time and take it day by day.
Stahl, whose husband also fishes in Santa Barbara, reports a different problem. "Tyler was supposed to leave tonight, but he can't, and our fish delivery guy has been stuck on the 101 since last night!"
If Santa Barbara is so bad, what does that mean for the ports along the coast? I ask Chris if he's heard from the fishermen in Channel Islands Harbor. Not a word, he says, but the swell is subsiding, so he'll have a weather window to check the traps before the next storm cell. My heart drops, but I don't say anything. It's his job, after all.
"I hope the worst is over," Hoadley messages. "We have some big issues to deal with going forward. It will be interesting to see how the rest of our lobster plays out."
Later that night, our neighbor delivers a secondhand report: bums are pulling lobsters out of traps that have crashed ashore. Fishermen spend thousands of dollars on tackle and essentials, the beach is littered with trash and debris, and no one is happy. At least you can enjoy the lobsters. Or even released.
Day 3: January 11, at the time of writing.
I register with Critters Fresh Seafood, a family-owned operation in Malibu, forty miles south of Ventura. co-owner denise honaker she gives me the truth, adding that she has "seen a lot" in her more than forty years as a commercial fisherman. her husband, captain scott honakerowner/operator of F/V Critters and their deck crew, Ryan koverman Y jimmy olivarri, they are still surveying the damage, carefully removing the traps from the rocks and waves.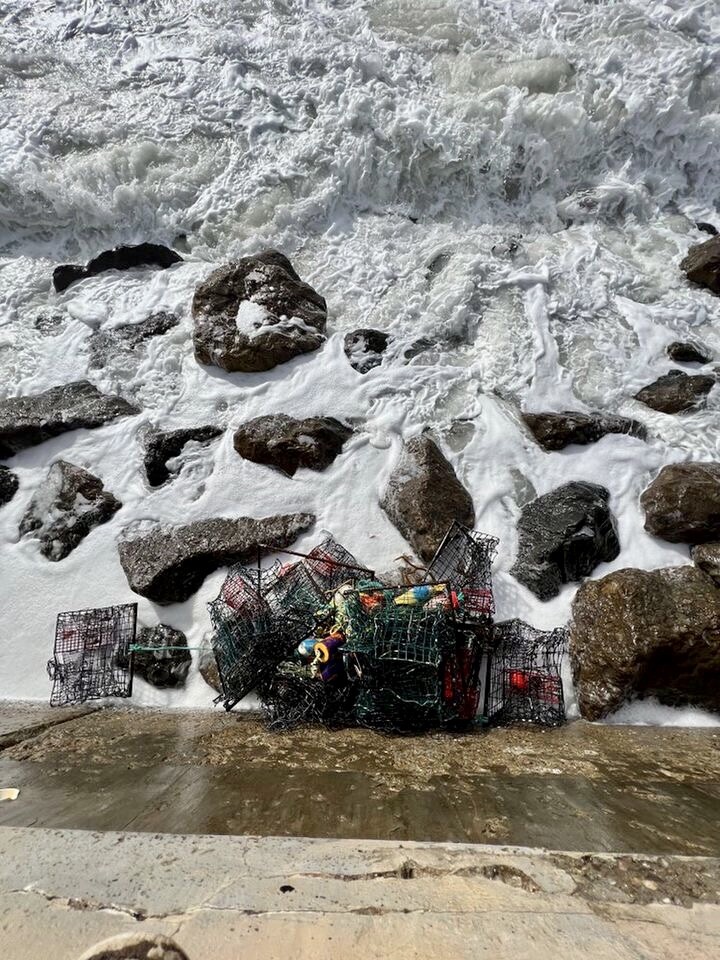 Photo by Critters Fresh Seafood
"As you know, each trap can cost at least three hundred dollars, and we lost over a hundred. We're still figuring it out," Honaker said. "The cleanup is continuing and we will continue to find the traps to make sure the shoreline is clear of them. We've had so many people in our fishing community, and customers are asking how they can help, which is very heartwarming."
Back in Ventura, Stahl notes the following during an irregular connection on her husband's first trip. "It's hard to say how the storm affected fishing," she said. "Big swell and strong currents made it a bit more difficult. I don't know how many fish were lost with the longline. Lots of debris in the water, trees, bamboo, milk crates, etc. Makes it difficult to fish at night with all the debris."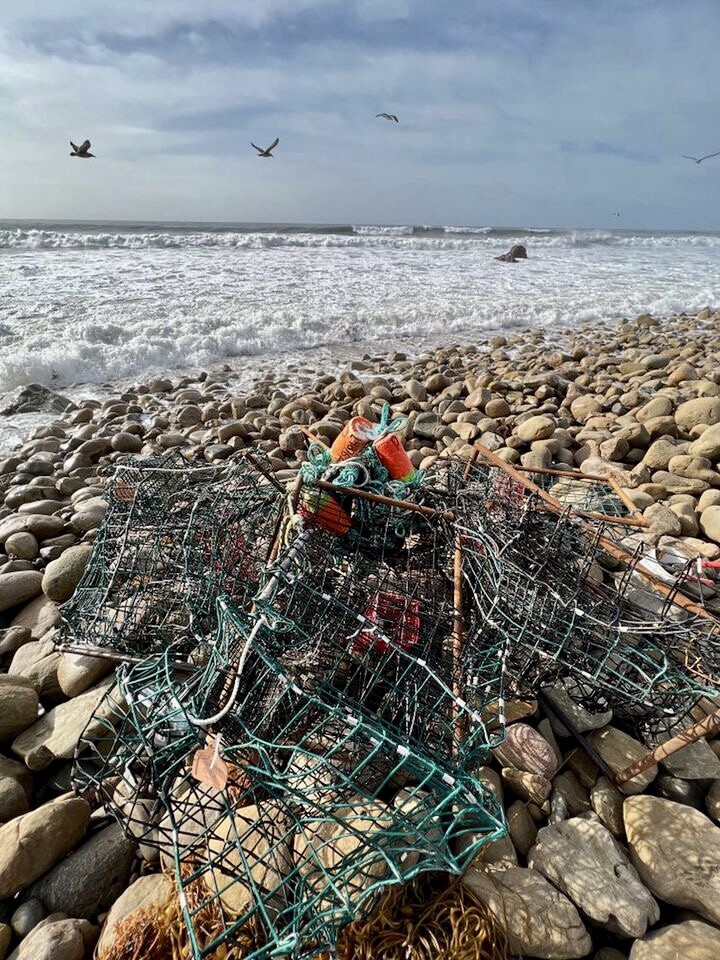 Photo by Critters Fresh Seafood
Days later, Hoadley checks in. "We did well overall, thank goodness. John was able to recover a good amount of traps. He is now displaced out of SB Harbor due to the situation at the port mouth and the city is not dredging it." Hoadley said. "He Now he's in Channel Islands Harbor, but it takes him twice as long to get to where he fishes from there. I think the city is supposed to bring the dredger here next week."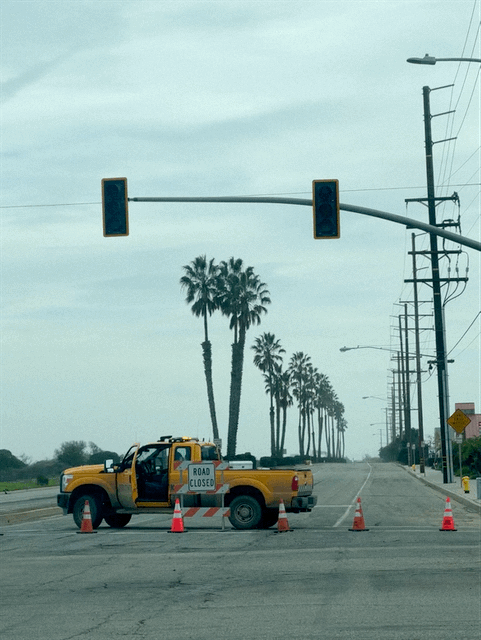 As for me, a week later, I'm still getting over the anxiety I felt on Chris's first day at sea. Preparing for this piece, I drove down the mountain to take some pictures that you see here. Wearing my newsboy hat, I passed detours and flashing signs that yelled "High Wave Warning." Roadblocks led me to a beach near Ventura Harbor littered with logs, reeds, and trash.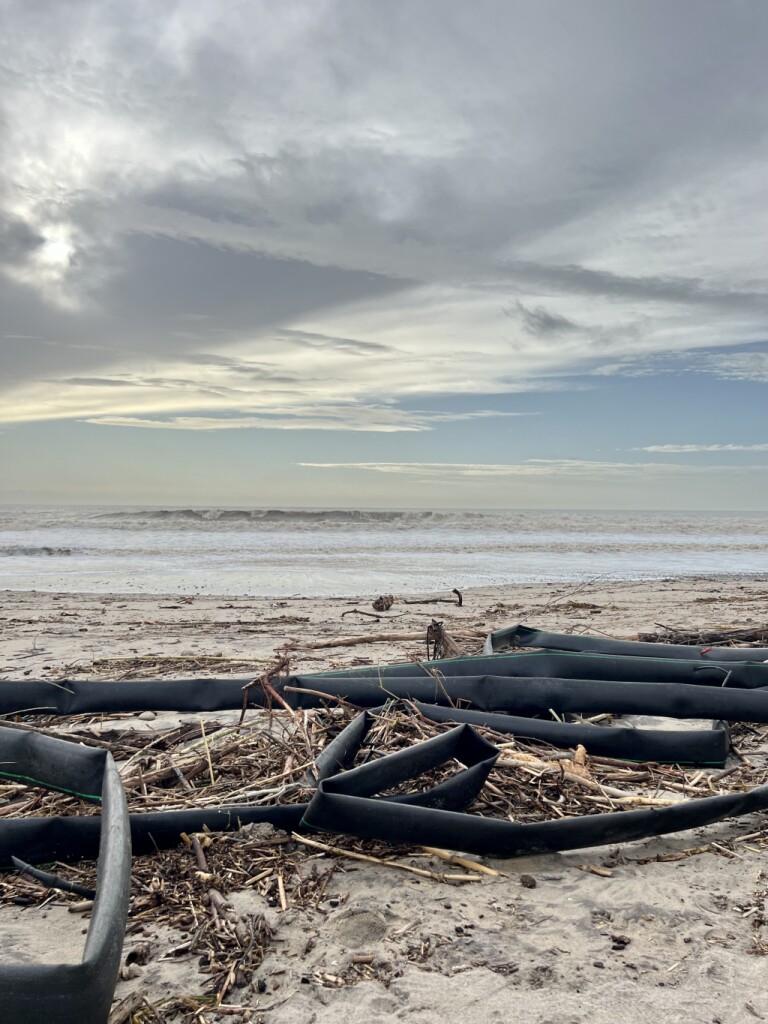 As I was photographing the disaster, a loud rumble from the shore pound caught my attention and took my breath away. Walls of mud curled into the peaks from raging tides, surf, and wind—the aftermath and a precursor to the next storm simultaneously.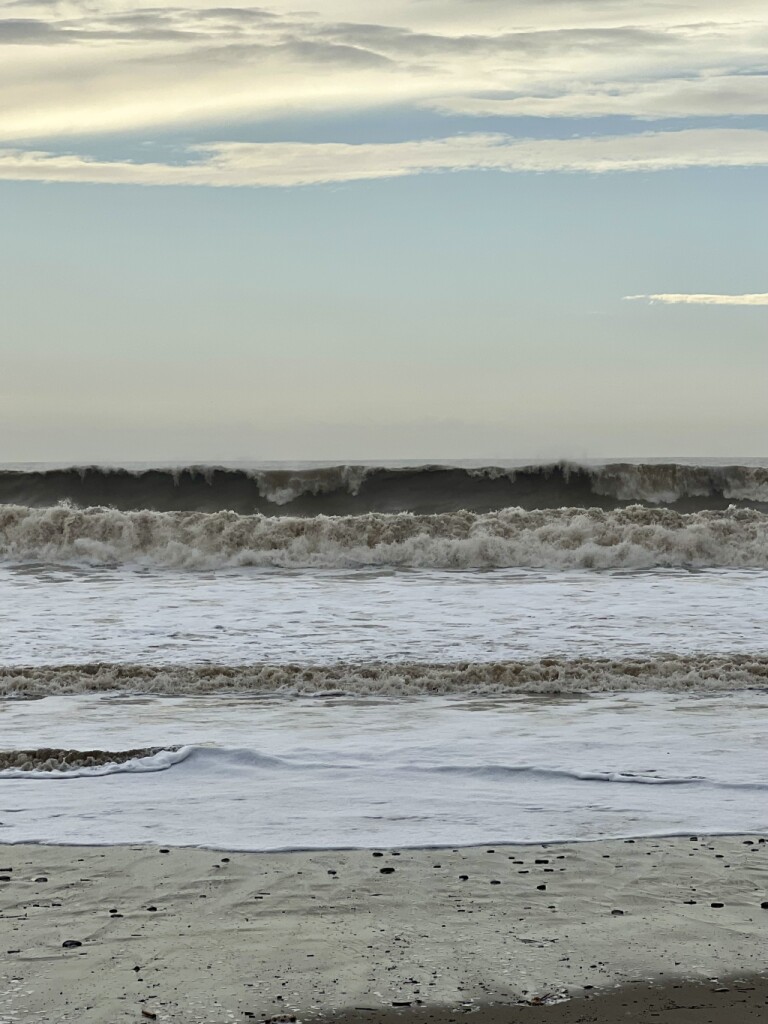 That's when I remembered Chris was out fishing. Fear struck my heart like a knife; I could feel the pain from the top of my chest right through my back. And at that time he was no longer a journalist, but a partner of a commercial fisherman, fearing for the life of his fisherman.
For more information on the storm's effects on commercial fishermen's partners, visit meganwaldrep.com.